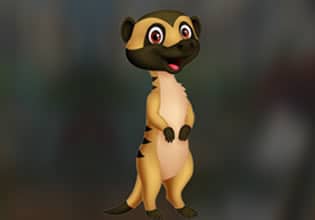 Cute Meerkat Escape
There is this creature in the town which was definitely exquisite for it was not really endemic in the area. This creature was a meerkat and it's a resident known by the townsfolk there. This meerkat just frolics around the place and asks for food from everyone there, they give it some but they really shouldn't especially the processed stuff, for a meerkat is really not evolved to consume those, in fact no animal is. That day, this meerkat was out again and people sees it, but when George saw it though who was another townsfolk there, he saw the animal now in trouble!
The meerkat is now trapped in one of the houses there and because the place is currently without occupants but not necessarily vacant, the animal has no help there! George doesn't know when will the owners of the place will return from wherever they went, that's why he is just going to help this meerkat here himself without of course damaging anything. Escape players, want to help-out here as well and see if you can get that meerkat out safely?
Cute Meerkat Escape is a brand new point and click animal rescue escape game released by Games 4 King.
Other games by -
Walkthrough video for Cute Meerkat Escape