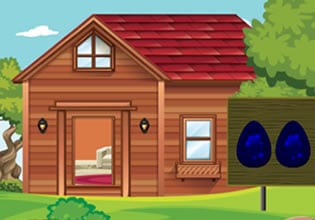 Cute Kitty Rescue
Willard's daughter here has this kitty which was very naughty and not only that, the creature was hyperactive and super curious. That's why that day Willard will be doing a rescue there around for it and that will be done to his own cage!
Willard's house is situated near the forest and at times he can capture some good game there for meat thanks to those cages. He can do that now for there was less noise, for that day his daughter was away to school and who was left in the home was the dog, Willard, and the overactive kitten. But because of that hyperactivity and curiosity, this kitten went inside the cage which Willard set for wild game! And now he needs to get it out of there quick for each moment it is in there is another moment that potential wild game is not being captured, also he needs to do this before his daughter finds-out that something like this happened to her cat. Escape players, you are now Willard here and thankfully as you saw the kitten, it seems to be okay, the only way to find-out if it's really okay is to get it out. Find the key to this cage then so that freeing it can be done soon.
Cute Kitty Rescue is a brand new point and click pet rescue escape game released by Games 2 Escape.
Other games by -
Walkthrough video for Cute Kitty Rescue