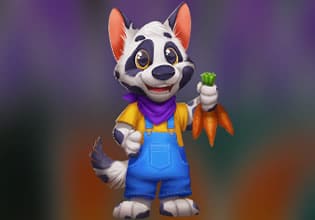 Cute Farming Doggy Escape
Humans and animals here lives close together, in fact too close for the animals in this hidden village are not the normal ones, but they are sentient and really live like humans! As a farmer there, Gregory is doing very well with his place, with the help he gets from his partner who was Rod and is a sentient dog, his skills of farming was still quite fascinating. But the farming chores that day was halted though, for something happened to him and Gregory needs to tend to that.
Rod got trapped in one of the sheds there at the farm and it's one that has a problem and is hard to open! Looks like this finally happened when somebody was in it. So okay, Gregory must help get Rod out of there for even though he is sentient, he is still a dog and his thumbs are not really like a human's. Escape players, would you like to help Gregory here do the rescue? He needs to be quick with this for daylight is a wasting and delicately too so as to not damage the shed.
Cute Farming Doggy Escape is a brand new point and click rescue escape game released by Games 4 King.
Other games by -
Walkthrough video for Cute Farming Doggy Escape