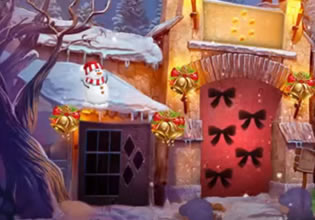 Cute Christmas Elf Escape
Stephanie was happy that day for the helper elf that visited them from north pole was the cute one. Christmas is coming and as Santa's promise, he sends his elves to the scattered villages across the land to announce to the people there that he is coming with gifts. Stephanie is just happy to see this elf again, but even when he looks like a regular boy, this elf is hundreds of years old and she is not even ten. Stephanie stalked this elf as it roams around the place, but even when that is not really a healthy behavior, it will soon come that this stalking will be of great help to the elf.
Stephanie saw for herself as the elf entered this house which was problematic, she was too late to try and stop him and now he is trapped in there! Stephanie did not know what to feel then when this happened, she doesn't know how to free the elf too for she is just a kid. Escape players, Stephanie needs help here in freeing the elf from the house for her skills and logic are not enough for this. Will yours be?
Cute Christmas Elf Escape is a brand new point-and-click rescue escape game from Games 4 King.
Other games by -
Walkthrough video for Cute Christmas Elf Escape