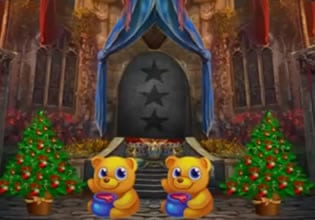 Cube Little Santa Escape
It's Christmas and the village was now ready for this Santa who was a little different in looks, but his mission in roaming around and delivering gifts was very much the same with the normal Santa who also gives gifts and joy to the children. This said Santa is cube-shaped, he is literally a cube with arms and legs. Nobody knows what happened to him, but the people there thought that this guy could be a part of Santa and it's still him, but only different in appearance.
People there can't really deny what he does though, so they skip the appearance and appreciate this Santa for what he gives. But it seems that day he was stopped by something, lucky for him still somebody was able to notice his troubles and now help is on its way! The one who found him was Malcolm and he found cube Santa inside one of the houses there which was hard to open! Malcolm was confused why Santa was there and how did he get inside, but what's sure now is that he is trapped in there and he is now having trouble trying to get himself out! Of course Malcolm will help him for he needs it, the children here needs him. Well, Malcolm needs help here too so will you be able to assist him on this rescue so that cube Santa can be freed quickly and safely?
Cube Little Santa Escape is a brand new point and click rescue escape game released by Games 4 King.
Other games by -
Walkthrough video for Cube Little Santa Escape