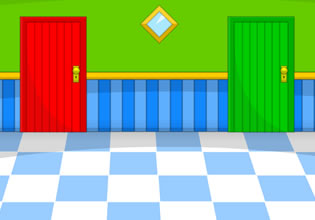 Crazy House Escape (Selfdefiant)
The crazy house here is a new place made for escape and people who have tried really did their best, but their words after were nothing but craziness and strangeness in the place. The house is not made to live in for there are a lot of doors in the place and aside for solving it so it can be opened, they all need to select the right one too for not all doors there can lead challengers out of the place! It's just unimaginable and sometimes the obstacles are unexpected. That day, Johnny decided to try and check the place out just to see if he can solve such an escape house, but as he was inside however he is starting to think that the challenges are getting even tougher and he needs a bit of help.
Escape players, will you help Johnny here escape from the crazy house and test your escape skills as well? Go ahead then and give-out the best of your skills as well as your logic for there will be obstacles in the house that are built to stop challengers such as yourself.
Come and ready yourselves on this escape adventure everyone! Crazy House Escape is a brand new point and click indoor escape game from Selfdefiant.
Other games by -
Walkthrough video for Crazy House Escape (Selfdefiant)