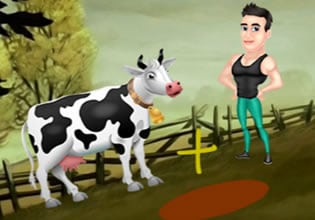 Cow Calf Escape
David is now roaming across the land and he is trying to find this calf here which belonged to his mother cow. This is a hard task for the area where they are is mountainous and he has to bring the mother cow with him so it can give the call and the calf would respond back. Miraculously, this worked even though David was doubting this method of his, but when he pin-pointed the location of the calf, there was still more problems to face.
David found the calf in a big cage there! Immediately when he saw this he thought, oh no this is another deep problem definitely. David is going to just do this now even though he really is thinking he shouldn't touch the contraption, but he should in-order to free his animal. David is just going to prop this trap back the moment he frees the calf, so escape players that's why David needs your help here for he is not relaxed at the moment and he might damage this thing if he is not careful. Want to help on this rescue then so that this calf can be reunited with its mother?
Cow Calf Escape is a brand new point and click animal rescue escape game released by 8b Games and Games 2 Mad.
Other games by -
Walkthrough video for Cow Calf Escape