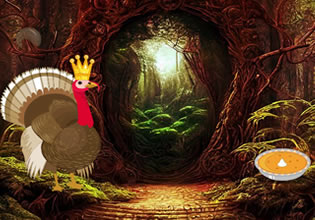 Collect The Turkey Eggs
It's thanksgiving and Joey will be entering the forest again but not to capture wild turkeys there, for he already has one he bought from the store. But his journey in the forest though will still involve some turkeys, turkey eggs to be exact.
Joey knows this mother turkey in the forest and that thing is quite huge for a hen, but it needs help that day for its current clutch is missing and the hen is really going out of its way trying to find them! That clutch of hers is about to hatch but because it is missing, she might not see them. That's why Joey is out and about in the place for he wants to save them wherever they are. Escape players, imagine you are Joey here, will you be able to find those missing eggs of this turkey hen somewhere in the forest? Quickly then for that clutch is one of the future of the wild populations of turkeys in the place.
Collect The Turkey Eggs is the newest point-and-click wilderness retrieval game created by Games 2 Rule.
Other games by -
Walkthrough video for Collect The Turkey Eggs