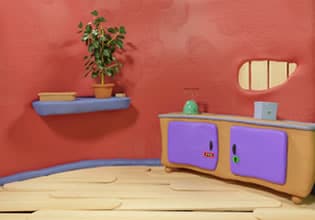 Clay Scape
Escape players, we are to try another escape adventure here and this time it's in a different place which kind of looks nostalgic. We will join Luigi in this escape adventure where he is trapped in a place which was some sort of claymation where clay fixtures are used for stop-motion pictures which will be constructed into a show. This is good but the problem with Luigi here though, he just woke-up there and he has no idea how he even got there!
Luigi quickly called for someone then just to let them know that he is there and maybe ask for help why he was there. Luigi thought maybe somebody brought him here? But why was this place weirdly made? He almost felt like he shrunk just to fit this stop-motion set or something. Well he is still himself and he can feel it, but his confusion is really starting to get him to panic and he needs to get out of there right-now! Escape players, Luigi doesn't have help there for there was nobody in this weird house and he doesn't know what's happening. Want to help him escape then so he can get some air outside? Go ahead and help Luigi here, try other escape games with us as well from Colorbomb like the first game and this second one.
Clay Scape is a brand new point and click indoor escape game released by Colorbomb .
Other games by -
Walkthrough video for Clay Scape