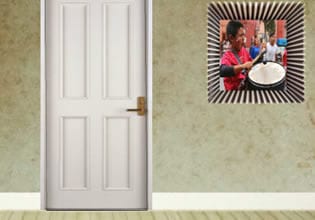 Christopher Guitar Escape
You went to Christopher's home for as a musician, you both of course had something in common in terms of interests, and that is music. Christopher is pretty much the greatest guitarist that you know, that's why when you decided to write a song, you needed a bit of his help for the harmonics. Christopher greeted you as you arrive at his house and almost immediately you went to work. Christopher decided to get his guitar too but as he did, that took him from a few minutes to several! Why? Well that's because he can't open the door to the room where it is and he had been trying to pry the thing open but sadly it just wouldn't!
You finally went to his aid for he is taking too long. What could have happened to there anyways? Well actually Christopher lost the key to it and that's why he had resorted to tinkering with it with some tools. This is not going to work, for it should have already if he knows what he is doing. You have no idea how to pry a locked door open too so there is only one way here, and that is to find that key now. Escape players, will you be able to find this key to the door even though you really have no idea where to start?
Christopher Guitar Escape is another new point and click item retrieval indoor escape game made by 8b Games.
Other games by -
Walkthrough video for Christopher Guitar Escape