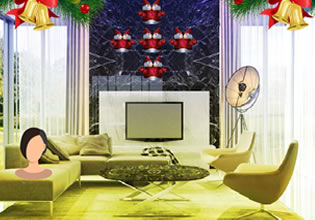 Christmas Bell House Escape
Christmas is a great time to celebrate with family and even friends, but for Nina however she was far away from home and didn't have enough budget to make it to and back if she goes for the journey to her hometown. So for the holiday, she just got her kept coupon for the luxurious bell house to try something new for a change, after all it was her day-off thanks to the holidays. The bell house was indeed great and it was even more than she had expected, maybe she'll bring her family here next year when she finally has the money. As she stayed however, the house somehow had a malfunction for when she tried the doors, all would not open!
Nina then scanned the rooms if the other doors were the same, well some weren't but most are definitely! Nina already called for help but it seems that they are having the same problem as well. What in the world is going-on now? Escape players, Nina needs help her to escape out of the bell house and maybe you'll have a clue that can help her on this problem.
Try this challenge escape players, be clever so that the escape will be easy. Christmas Bell House Escape is the newest point and click indoor escape game from Games 2 Rule.
Other games by -
Walkthrough video for Christmas Bell House Escape