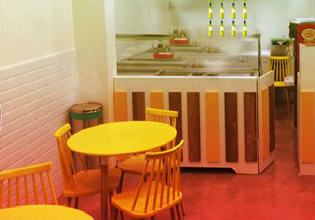 Chill Sweet Shop Escape
Erwin misses the times he and the gang used to chill in the sweet shop where he works after duty hours, they would order an entire cake and eat it all by themselves, of course Erwin pays most of the time and that's the beauty of it for no price can pay for companionship. Nowadays, business had slowed and sometimes there weren't even any customers around like now. Tomorrow his boss will close-up shop and open the next few weeks for they can't keep-up with the expenses for their daily income was low. The final minute arrives and Erwin was the last person to close-up shop, he spent a little time in there before he'll leave, little did he know there will be a mysterious thing happening in there while he is in the place.
Erwin was about to leave when he realized that all of the exits are locked! How though? For Erwin is suppose to be the one locking the place and he still haven't left the premises? Escape players, Erwin is now confused and he thought there is really something going-on in here and it might not be normal. Come and help Erwin here everyone as he finds-out what is going-on and so he can escape the shop then.
Chill Sweet Shop Escape is the newest point and click escape game from WoW Escape.
Other games by -
Walkthrough video for Chill Sweet Shop Escape