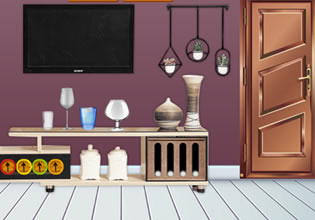 Chicken Chef's Kitchen Catastrophe
Chef Gregorio have already been bombarded by problems here in the kitchen, this is not good for he needs to comply to what he had been asked here and that is to make different kinds of chicken dishes and all before his time is up for the guest will be here soon. This sounds like that reality TV show or something. As Gregorio is complying to all of that, another problem happened and this time he needs help!
Gregorio got trapped in a room there! He couldn't get out but lucky for him, one of his assistants noticed his trouble, unlucky for him though they are having a hard-time getting him out. Escape players, you are the assistant who found Gregorio and you are not finding this rescue easy, but you must continue though for the chef is very much needed in the kitchen now. Will you be able to get Chef out as soon as possible? Find something then that can open this door pronto.
Chicken Chef's Kitchen Catastrophe is a brand new point-and-click indoor rescue escape game released by 8B Games.
Other games by -
Walkthrough video for Chicken Chef's Kitchen Catastrophe