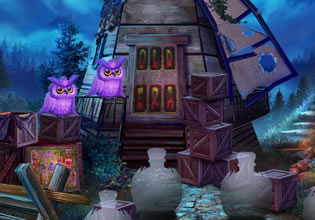 Cheerful Owl Escape
The cheerful owl in the village here doesn't look too cheerful, but he is actually so even though his expressions sometimes looks bleak. This owl is also very much successful with the things he does, that's why people come to him to seek advice of their troubles, and that day one of the settlers will ask something of him and he was Clyde.
Clyde arrives in the owl's residence and when he knocked at the door there, he heard a call for help! It wasn't concerning though and it's of course coming from the owl who is actually trapped in his own place there. Clyde is going to help definitely, but he is going to need some help too for he doesn't really know how to forcefully and even delicately open the door here. Escape players, would you like to help on this too for the sake of the owl?
Cheerful Owl Escape is the newest point-and-click rescue escape game from Games 4 King.
Other games by -
Walkthrough video for Cheerful Owl Escape