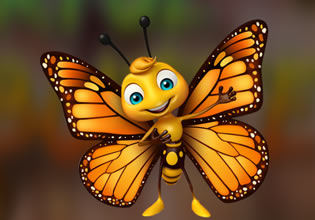 Cheerful Butterfly Escape
This village here houses a very fascinating creature, it's a butterfly but not just any butterfly though, but a magical one and it protects the entire place with its magic. All of the residents there owe a lot to this creature, for despite of its delicate nature, its magic is enough to repel raiders and anybody who would do the place harm. As a resident there, Raymond have witnessed that many times and he really would do his best to protect the butterfly so as to protect every resident there. And it seems that day, he will be tested.
Raymond went to where the magical butterfly is just to watch it move about and being magical, but then he realized that it was in trouble and it now needs help! Escape players, this is not good, for any trouble to the butterfly is trouble for them all! Raymond is going to do something about that trouble but he needs help. Want to see what this trouble is and can you help as well?
Cheerful Butterfly Escape is the newest point-and-click rescue escape game from Games 4 King.
Other games by -
Walkthrough video for Cheerful Butterfly Escape