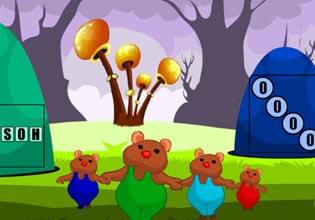 Caveman Escape 2
Orville managed to free this caveman thanks to your help escape players, now this one here trusts him. But just when Orville was seeing this as a mission accomplished, well it is but there was another caveman in the area and he is experiencing the same exact situation as the one that he just rescued!
Orville found him just beyond the houses there which were long abandoned and he was also stuck in this human-sized cage! Where were all these cages coming from? And there were actually more cavemen here in this wilderness? Asked Orville to himself and these are his main questions among anything else. Somebody might be actively catching these cavemen here and right-now Orville is right in the middle of this all! Still he cannot just watch this one be trapped in there, just like before he will help this one out too but this time quickly for Orville is starting to think there is more waiting for him here. Escape players, want to help Orville once more so that he can get this caveman out quickly?
Caveman Escape 2 is a new outdoors rescue escape game developed by 8b Games and Games 2 Mad. This game is a continuation of the first one as its sequel.
Other games by -
Walkthrough video for Caveman Escape 2