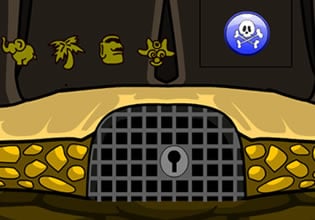 Cave – Woman Escape
At the foot of the mountains, there is a lush forest and in it somewhere there is a cave which was rumored to be inhabited by primordial humans! That sounded like a ton of nonsense, but there could be a core of truth to it for not even the aboriginal people living near there are so keen to go in the place in fear of them. That's why that day Brad will be going there in search of the truth, little did he know that he'll find somethings which somehow at the back of his mind he didn't even expect to find.
As Brad was there he actually found what he was looking for! But he really didn't expect to find such people, and one of them even needs help. Brad found some real cave people there, they looked different but somehow there are very few of them. This one that needs help was trapped in some sort of cage which he doesn't have a clue where they even got it for they should be ancient and not able to create metal. Maybe they stole it from somewhere? Brad really thought about what he needs to do here now, but eventually he decided to free this cave woman which was the one who was trapped and carefully too, that's because he doesn't want to get her startled or anything. Escape players, come and help Brad here so he can get that woman out.
Cave – Woman Escape is a brand new point and click outdoors rescue escape game released by 8b Games and Games 2 Mad.
Other games by -
Walkthrough video for Cave – Woman Escape