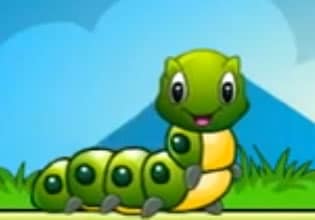 Caterpillar Escape
Your back in the woods again escape players, well the place is really awesome for you and you just can't get away from it. That day, as you went deeper into the thicker woods there, you met an old friend and he is having a bit of a problem right-now. That friend of yours is a caterpillar and is a big one actually, but at the moment he is lost and experiencing a few challenges as well, and because he doesn't really have thumbs like a human's, he needs to do this on his own and what he's only got. Well that's before though, for you will definitely help him there.
You thought your caterpillar friend here is challenging himself again for he is kind of like that and playful, but when he told you that he is not then you really have to help him. It's weird how he got himself into some challenges here really, the obstacles were even pretty advanced, it looked like it was suppose to be solved by a human. Well you are a human escape players, so will you help your caterpillar friend here who is in trouble and quickly too so you can both go home?
Caterpillar Escape is the newest point and click wilderness rescue escape game from 8b Games and Games 2 Mad.
Other games by -
Walkthrough video for Caterpillar Escape