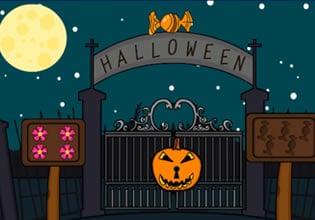 Cat Rescue Happy Halloween 2021
It's Halloween and Felix was out and about around the area, but he wasn't out for the purpose of trick or treating though, he was actually out on the search for his cat! Felix got to an area he was not suppose to be even, for the place he will be going into is said to be haunted! Well just the old house there which every kid avoids. Why would he go in there though? Well he is hearing his cat from inside it and now there is really no choice but to go in for his cat would not come out!
Felix is definitely going to go in for the rescue, he really is doing this against his will now, for he doesn't want to be in the place but he must if he wants to get his cat back. Escape players, will you help Felix here as he is going to go inside this said haunted house to potentially rescue his cat? If so then be ready, for you all have no idea why the cat is in there and what's keeping it in. There must be someone or something holding it there.
Cat Rescue Happy Halloween 2021 is a brand new point and click animal rescue escape game released by Games 2 Jolly.
Other games by -
Walkthrough video for Cat Rescue Happy Halloween 2021