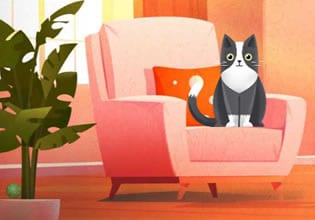 Cat Nightmares – The Key
Vivian was the only one in her circle of friends who was scared of cats. She doesn't know why but she thought maybe when she was young she got attacked by one, that's what she was told but she really can't remember everything. That day though, her friends thought maybe she can face her fears for a bit, and rest assured that not all cats are the aggressive kind, in fact there seems to be more dogs that are aggressive than cats. So that day her friends got her to try the escape house in the neighborhood which has a cat concept!
Vivian was definitely giving her friends' challenge a big NO! But they really convinced her to the best they can and it worked! Now she is inside the house which has both real and toy cats and it's absolutely a nightmare to her. Vivian was really keeping herself composed now, it's time to escape and she must do this as quickly as she can. Escape players, Vivian here is keeping-up with her composure, but she doesn't know when she'll be able to hold that and she might just sit down and cry there if she let's go. Will you be able to help her then so she can escape quickly from the house?
Cat Nightmares – The Key is the newest point and click indoor escape game from Federico Rutenberg.
Other games by -
Walkthrough video for Cat Nightmares – The Key