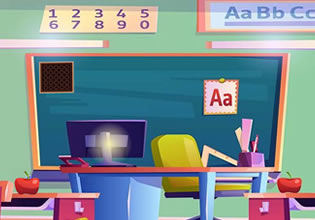 Cartoon School Escape 2
In the previous escape, we helped Ashley who needed to take some things from a room in the school, with your help she was able to get what she needed and escape the place too after she got in some trouble there. This time though, we will join another person who is really going to go in this different school but not to learn however, but to escape from it!
The cartoon school is what this escape place is called for obvious reasons, now the challenger there is Randy and this is a double nightmare for him, that's because he hate school already! This is definitely a real challenge for him, more so that the school is empty which creeps him a bit. That's why he needs your help escape players, will you be able to assist him then so he can get through with this?
Cartoon School Escape 2 is brand new point and click escape game released by 365 Escape. This game is a continuation of the first one as its sequel.
Other games by -
Walkthrough video for Cartoon School Escape 2