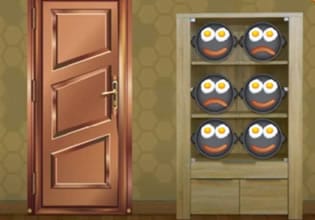 Butcher Escape
Come and check the escape adventure here in a house of a meat butcher. Butcher Escape is the newest point and click indoor escape game created by 8b Games for another dose of fun escapes with us.
Martin was already a welcomed guest in the butcher's house for he was a regular customer every week. Typically, Martin would knock on the door and if nobody would answer, he would just enter and call from the inside for that was the instruction to him if ever nobody would come and accommodate him. Martin did just that and still the butcher would not come, maybe there's nobody at home at the moment? Maybe he'll just return later but when Martin got to the door however so he can leave, he realized that it was locked and he obviously could not open it!
Martin tried his best to get the door to open but unfortunately he couldn't and of course he can't just destroy the door like he typically does at home. Martin needs to find another way out of the place now for things can get worst especially if somebody gets the wrong idea here. Escape players, want to join Martin on this situation from a butcher's place? Present the best of your skills and logic then for a successful escape.
Other games by -
Walkthrough video for Butcher Escape