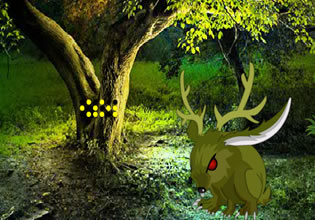 Bunny Beast Forest Escape
You really wanted to spend your Easter in a forest. It had been your goal to spot where the bunnies were coming from when Easter starts and where they go after. You heard there was a rock that served as the entrance to their world. So you scouted the forest for that specific rock. However, the silence of the forest was broken when you heard multiple rustling at once. You looked around to locate the cause of the rustling. But what you saw in front of you was another human being. She was really shocked to find you in the forest. Then she asked you sit down for a while to tell you why there were not much people visiting. It seemed like the forest was home to the bunny beast. This bunny was once very cute and friendly. But after many people broke its trust, it became a beast. 
You couldn't easily believe what was said to you so you remained in the forest. It took you a while to decide to have someone with you the next time you look for the bunnies' world. You stood up to leave the forest but you couldn't easily find the way out. Play Bunny Beast Forest Escape outdoor escape game by Games 2 Rule.