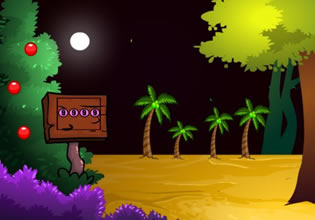 Bull Gate Escape
This forest here was clearly something in the past, for there are remains of an old wall there and a functioning gate which was definitely different. That day as a person who lives near the place, Jeff went out of his house just to visit the area to see this different and interesting gate again. That's what he does every so often, but little did he know this day will be different.
Jeff passes-by the gate and it was normal, people call it the bull gate for there are bull insignias on it. As Jeff moved just a few meters, he heard a sound and when he looked around, he saw the gate was now closed! And so he checked the gate and when he tried to open it, he now couldn't. This has never happened before and Jeff has no answers for this, all he knows now is to get out from there for he is not feeling good about this. Escape players, Jeff could not solve this as he tried, the gate would just not open. Okay now, will you assist Jeff here with this so he can safely escape the area before another mysterious thing happens?
Bull Gate Escape is the newest point-and-click outdoors area escape game from Games 2 Live.
Other games by -
Walkthrough video for Bull Gate Escape