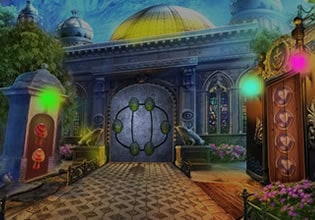 Brown Monster Escape
Fantastic creatures are coming out from the nearby forest from time to time, that's why people living in the village near it are numb to the strangeness of the place already, they even have a resident who was not a human but a huge and seemingly unattractive scary hairy beast! Some people like him but most don't, for he can be a jerk at times and be boastful. There seems to be a final straw for him which could only take a matter of time until it is drawn. But that day someone might have already done it, for this beast of a resident of theirs is trapped inside a cage that day!
Somebody definitely did this, for the monster is not that stupid to lock himself in. The creature is actually your friend escape players, and of course you are biased to help him. Still though he needs to stop this jerky behavior of his if he wants to end things well for him, for this seems to be the first act for his eventual eviction from the village if he keeps up his ways. Escape players, he might change for the better if you free him here, so will you be able to tinker with the thing that is keeping him in with everything you've got?
Brown Monster Escape is a brand new point and click rescue escape game from Palani Games.
Other games by -
Walkthrough video for Brown Monster Escape