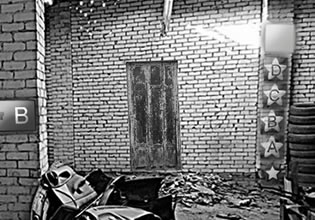 Bricks of Black and White
Shelley couldn't believe her eyes. One minute she's holding the black and white photograph, the next she's inside of it. Futhermore, she realized that she's holding a strange key in her hand. Shelley became terrified because there was no way for someone to just turn up in a photograph. And yet, there she is. The same black and white bricks are surrounding her and for some reason, a familiar nostalgia washed over her. It's as if she has been to the place before. Noticing that she's at a parking space, she took the stairs in the corner and worked her way up to find a room.
She opened the room, surprised to find that this one is her own bedroom. On her bed is a ring of keys in various sizes and shapes. Aside from the keys is a small notebook that seems to have been a few years old judging by its yellowing pages. Flipping through its pages, Shelley grew more afraid because per every page are family secrets she could not have imagined. She grabbed the keys and ran outside, determined to look for an escape.
New escape game created by Ainars in black and white. Search garage for 7 valuable and rare platinum screws. Find hexagonal exit key to unlock door. Good Luck!
Other games by -
Walkthrough video for Bricks of Black and White