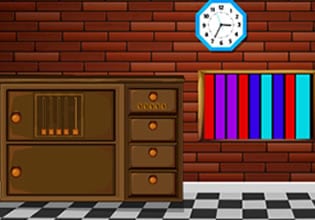 Brick House Escape (Games 2 Mad)
The most deluxe houses in the neighborhood were the brick houses and for the week Jay was staying in one for the place belongs to his relatives. It's a good thing he has an immediate family there in the area, for the hotels in the area are not affordable. Most of the day he will be alone in the place though, for the entire family has daily errands and as for Jay, his errands are not up until night. But that day as he was relaxing alone for the residents have already left, he thought maybe he'll arrange some of his things for he really didn't have anything to do, well maybe get some fresh air outside first and then to it. Well that's if he can make it outside though.
Jay could not get himself out of the house no more for the doors were mysteriously locked! Jay tried to open the door as simplest as he can for he thought it can't be that difficult, it still wouldn't for it's really locked. Escape players, want to join in the escape here with Jay and see if you can make it outside of the house? And if ever, try to get some answers what in the world just happened! Try not to damage anything too for this is not your home.
Brick House Escape is a brand new point and click indoor escape game released by 8b Games and Games 2 Mad.
Other games by -
Walkthrough video for Brick House Escape (Games 2 Mad)