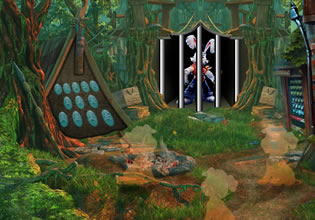 Brave Rabbit Escape
The brave rabbit is quite intimidating to look at, and he is in reality, as well as a bit mischievous at times. But he is really not harmful though and he has not hurt anybody in the course of his stay there. But there are some that doesn't really like that rabbit and that day, they did something to him!
As a resident of the place, Odie is saddened, for he just found his friend rabbit imprisoned and he knows his friend didn't do anything. This could be the work of someone who hates him and that is really not fair. And so, Odie decided to really help his friend rabbit and he needs to do that quickly, for if somebody sees him then they might stop him on his attempt. Escape players, would you like to help Odie then so he can be quicker with this rescue? Find the key to this prison then.
Brave Rabbit Escape is a brand new point-and-click rescue escape game from Games 4 King.
Other games by -
Walkthrough video for Brave Rabbit Escape