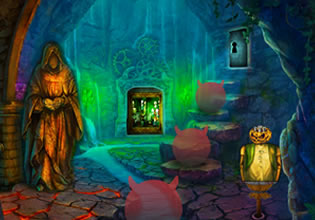 Brave Pumpkin Man Escape
People in the village here are starting to get uneasy, for it is Halloween and all sorts of monsters from the wilderness will now enter the place and they will start to abduct residents there who they deem dark and naughty. But as they now pass the area, it seems that something happened and the other way around occurred!
One of the monsters who passed the village got trapped in a house there! Now it can't get out for some reason and that's very weird, for that being is magic and nothing can stop it. Well as a resident there, Austin is going to take the risk and free this monster which people call the pumpkin man. He needs to free that creature for it can't stay here, it needs to pass the place and leave them alone. Escape players, will you help Austin here who is now at risk?
Brave Pumpkin Man Escape is another new point-and-click rescue escape game made by Games 4 King.
Other games by -
Walkthrough video for Brave Pumpkin Man Escape