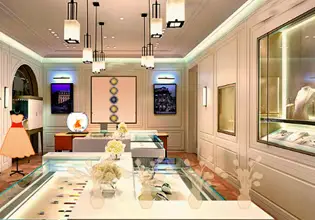 Boutique Showroom Escape
You stumbled on an invitation on the way to work. You picked it up from the streets. Ignoring it is very hard as it looks fancy. You read the content and it stated the time and place of a party. You try to place it on the table on a cafe. However, someone's car stopped beside you and asked for the invitation. Without any hesitation, you handed the invitation and walked away. However, the person inside instantly wondered about you and how you easily ignored the riches plastered on the car. So he ran up to you and asked you all these. You simply replied that you don't know much about cars and you can't tell a luxurious one. He sighed and still followed you around. Now you're the one asking him questions. But instead of annoying him, he seems to be enjoying every bit of it.
You stop in your track and face him. And you want to ask him what's the deal when he pulls inside a boutique showroom. But it's a high class place and you don't feel comfortable inside such places. He informs you that he manages the place as instructed by his father. His butler calls him aside and you're left to explore the place. It's such a huge place and you're instantly lost somewhere inside. Play Boutique Showroom Escape room escape game by Games 2 Rule.