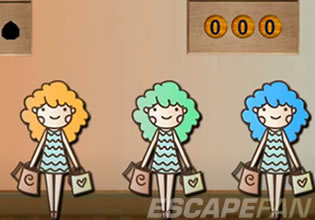 Bonny Girl Escape (8b Games)
Nina arrives at her friend's house for it's girls' day again, maybe they can bring her friend's daughter too for they will be going shopping. But as she got inside the house though, something was happening there and it's an actual problem!
Nina caught her friend panicking! She was all-over the place and searching for stuff, so she asked her what's the problem and that's when she knew that she was trying to solve something quite serious there. Her friend's daughter was actually trapped in a room there and her daughter inside was slowly getting uneasy. Nina saw her friend as not relaxed so this is surely urgent for her, okay she'll have to help here then. Escape players, would you like to help here as well in rescuing this trapped girl? Play as Nina then and get the kid out safely.
Bonny Girl Escape is the newest point-and-click indoor rescue escape game created by 8b Games.
Other games by -
Walkthrough video for Bonny Girl Escape (8b Games)