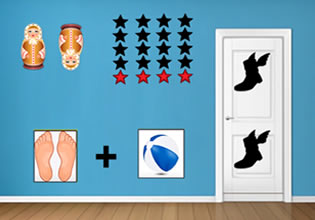 Blue House Escape 4
Briggs really thought his mission is over and he successfully made it, but it wasn't over yet unfortunately, for when Briggs was able to escape the blue house which he was sent to accomplish his task, he really thought he was out, but instead he found himself in another room which was also locked!
Briggs was seriously getting tired of seeing this blue place, he needs to get out of there now for he strongly thinks that the owner of the place is on to him already and is toying with him. Escape players, will you be able to help Briggs there escape once more as his chances there are slowly closing? Make sure that it is the final one then or he'll find himself stuck there again.
Blue House Escape 4 is the newest point-and-click indoor escape game from 8B Games and Games 2 Mad. This game is a continuation of the previous one as its sequel, and is a part of the first game as the start of the series.
Other games by -
Walkthrough video for Blue House Escape 4