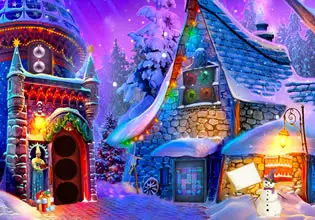 Blithe Santa Claus Escape
Santa got into some problem that day again and it was once more the same problem he experienced decades ago. Santa's magic experienced a little trouble as he delivers gifts that evening of Christmas, and now he can't get out of this house!
Santa was forced to call for rescue and the one who responded was Eli one of his helper elves who is on standby, just in case something like this would happen. Eli will now quickly get Santa out from where he is trapped and with haste too for he still has a lot of gift delivering to do. Would you like to help Eli here so he can free Santa successfully? Quickly then so that children around the world will be happy with the gifts they receive this Christmas.
Blithe Santa Claus Escape is the newest point-and-click rescue escape game from Games 4 King.
Other games by -
Walkthrough video for Blithe Santa Claus Escape