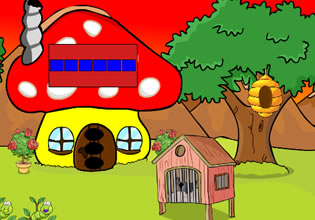 Black Hen Escape
Carl is now ready to tend to his animals for morning has already come, he needs to feed everybody and also free this new animal of his which was a black hen. It's in its small house at the moment and he really needs to take good care of it, for this thing was quite rare and Carl really had a hard-time in getting this thing. As he was about to tend to it though, he realized there was a problem.
Carl could not find the key to the cage of his black hen and he can't get the bird out. This is now taking Carl's time and it's stalling him which is not a good thing, for in a farm one really needs to make use of every hour of daylight they are given. Escape players, will you help Carl here then find this key so he can be on to the next task of his eventually?
Black Hen Escape is the newest point-and-click item retrieval animal escape game created by Games 2 Jolly.
Other games by -
Walkthrough video for Black Hen Escape