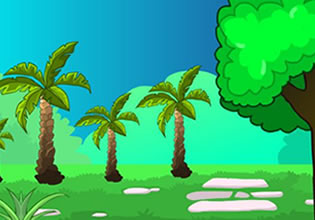 Black Gate Escape 1
Gertrude loves exploring, that's why she had been mapping the entire place that's near her home. But there was only one place she haven't been to before though, and that is the open forest near her. And so that day, she went there not knowing what she'll find. Little did she know she will find something and even though this land is vast, she'll go directly into it.
Initially, Gertrude saw this strange wall in the middle of nowhere, she entered it through a small gate and when she did, she noticed a huge difference there from the outside of it! It seems like somebody lived there a long time ago and then left. Gertrude found something awesome here, so she'll be leaving first and then come back with some friends to show them this, but unfortunately she couldn't anymore, for the gate where she went through was now locked! That is where Gertrude's troubles began and from there she is going to need some help. Escape players, Gertrude doesn't know what this place is here or who locked the gate, but she knows she needs to get out for it's not anymore cool. Would you like to help her then so she can leave quickly?
Black Gate Escape 1 is a new point-and-click area escape game developed by Games 2 Live.
Other games by -
Walkthrough video for Black Gate Escape 1