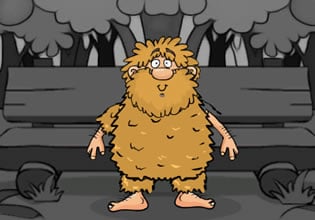 Black And White Forest Man Hunger Escape
The black and white forest offers very less life and no matter how people look at it, it would always look like an alien world to most, still there are a few people living in there and one is this mountain man who had been living to the extremes there for years! Bon who also lives in the said wilderness but only at the edge of it for he still required the help of things not present in the place, knows this man well. He visits him from time to time and he seldom shares what he has for care and friendship. But that day however, the man had experienced a serious scarcity for the first-time in years! He had nothing to eat and the poor guy is not even asking anything, Bon only knew he doesn't have nothing when he checked his reserves and well, it was empty. Lucky for him Bon is not at all experiencing any inconvenience, in fact he is there to give him food but it's not going to be enough, he needs to get more and he will be right back.
Escape players, Bon will try to get this man more food to eat but it isn't going to be easy getting those, for even though he has enough he still needs to pick them from the forest which of course, rarely gives. So will you help him so he can provide for the old mountain man?
Black And White Forest Man Hunger Escape is another new point and click rescue escape game made by Games 2 Jolly.
Walkthrough video for Black And White Forest Man Hunger Escape
SIMILAR ESCAPE GAMES