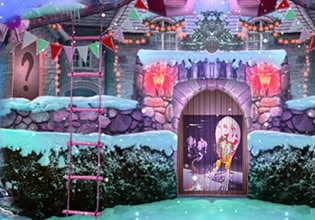 Benefaction Santa Escape
Santa is now roaming around the area and is delivering joy through the gifts to the children of the world. But as Santa went however, it seems that there was some trouble in this village where Theodore lives, for right-now Santa is trapped inside one of the houses here and he was the first one to see him!
Seeing Santa is not a common thing here but because their village was far from civilization and is near the north pole, they see him more than any person around the globe, that's why he isn't too confused in seeing him. But right-now Santa needs help here and for Theodore it is an honor to be helping him and be a part of the merry making he is doing as he travels the skies with his sleigh. Theodore needs to be quick on this though, for Santa is very busy and this problem is really stopping him from moving, and of course by not moving this is seriously delaying him. Theodore needs help here though for he really has no idea how to do this rescue, will you help him then so that Santa can be freed quickly?
Benefaction Santa Escape is the newest point and click rescue escape game from Games 4 King.
Other games by -
Walkthrough video for Benefaction Santa Escape