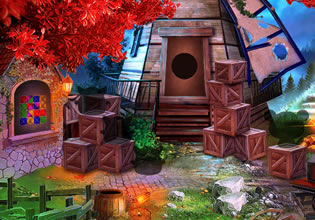 Beloved Farmer Escape
Everyone appreciates this only farmer in the town for not only he is charming, he is also caring for the people who lives together with him in this settlement. That day, Ellie will be going to the farmer's place for she is the delivery girl who brings all of the produce from his place to the town, and everyone is waiting for it now. As she arrives though, she never thought she'll find the farmer in trouble, for now he needs a rescue!
The farmer got trapped in his own place and who knows how long he had been trying to get himself out! Ellie immediately moved for the farmer might be hurt or whatever, that alone should make anyone move with haste. Escape players, Ellie needs a little help here on this rescue, come and assist her then so that the farmer can be freed.
Beloved Farmer Escape is a new point-and-click rescue escape game developed by Games 4 King.
Other games by -
Walkthrough video for Beloved Farmer Escape