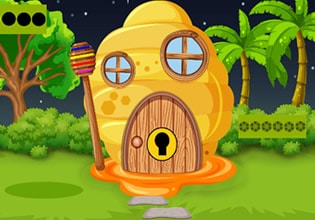 Beehive House Escape
There was these strange creatures living in the area where Earl lives and those aren't just strange creatures, for the forest benefits greatly from them. One of the strange creatures there are bees and they are gigantic! Almost human-like! But they are friendly and that's why Earl built some of them houses for their hive was so big, solid structures would sometimes fall due to the weight. Also, Earl built his house to look like a beehive just for trend and so he would blend-in with the other giant bees as well.
Earl just came from the forest after gathering some fruits and firewood, as he arrived he tried to find his keys for the door but unfortunately, he couldn't and now he can't open his door! Earl built the sturdiest door than the rest of the bee houses there, that's the disadvantage of it for now he can't break-in if something like this were to open. He needs to find his keys so he can get inside, so will you help her out escape players? Go ahead then and test your skills on this one, maybe those keys are just under a rock or somewhere.
Beehive House Escape is a brand new point and click house escape game from Games 2 Jolly.
Walkthrough video for Beehive House Escape
SIMILAR ESCAPE GAMES