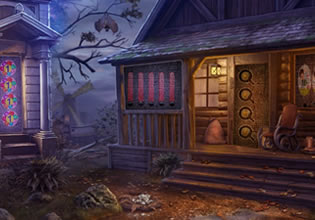 Beautiful Witch Escape
Witches are getting a bad rap recently, they are being persecuted whatever they are both dark witches and witches of the light. That day, the townsfolk here have captured another one and sadly, the lady was a white witch in-charge of protecting the very same town she had been captured into!
Robin found-out about this and thankfully, she knows the white witch of this place, but it's all a secret though and the witch asked that it stays that way. So okay, she is very much lucky at least one person here knows her, so Robin is going to rescue her there for she can't use her powers right-now, that's because the people have done something which negated her magic. Escape players, no powers are involved in this now, Robin must rescue their white witch with good-old elbow grease, but he needs to be fast so that he won't be seen here and they can both escape. Escape players, want to help Robin here in the rescue while nobody is around at the moment?
Beautiful Witch Escape is a brand new point-and-click rescue escape game released by Games 4 King.
Other games by -
Walkthrough video for Beautiful Witch Escape