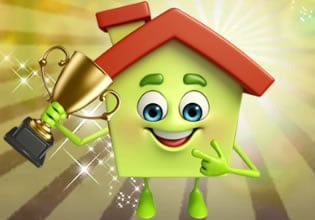 Beautiful Jovial Shelter Escape
There are strange beings living near the town and they are the most weird of all the things that the people of the town have ever seen. These beings are called house people and not because they stay inside their houses most of the time, but they are houses themselves! They are people too for they think like a human, but the different things about them is they are small and have arms, legs, and a face!
Nobody knows what kind of beings they are and where they came from, but they are good beings though, joyful and very smart too. They help the people in the town with everything that needs solving and in turn, they treat them delicately for they are kind of defenseless, and also keep them as a secret too. If the world knows about them in any way then they will get experimented on. That day as a resident of the town, Billy was to consult his friend which was a house people for something quite technical. He is surely able to answer this problem, but there was a problem with him though, for Billy's house people friend is in serious trouble and he needs help! Escape players, want to see what happened to Billy's friend here? Come and place yourself on the shoes of Billy here then, see if you can help his friend too if ever possible.
Beautiful Jovial Shelter Escape is the newest point and click rescue escape game from Games 4 King.
Other games by -
Walkthrough video for Beautiful Jovial Shelter Escape