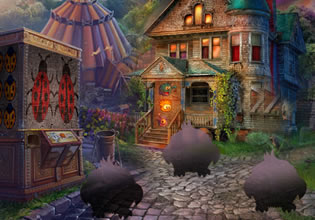 Bear Boy Escape
As always, the people in the village here just acts violently to the things that they don't understand. That day it was this boy who is dressed-up as a bear and he was very convincing to look at, he is almost like some sort of half bear half human creature! His suit is well made that's all and Leroy can see it, but the people are not taking any chances though and they imprisoned the kid whom they think was a monster!
Nobody would listen to Leroy as he speaks-out, guess he'll have to do this the hard way then and he doesn't really like it. Escape players, Leroy is going to get the boy out and he will have to do this without anybody noticing him. This is going to be hard, so will you help him here get this done quickly and quietly so that it would be like nothing really happened?
Bear Boy Escape is a brand new point-and-click rescue escape game released by Games 4 King.
Other games by -
Walkthrough video for Bear Boy Escape