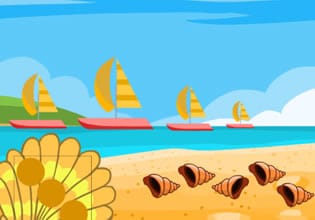 Beach Escape (Games 2 Mad)
Nigel went-out of his house that day for he needs to think. So much problems are coming in that week and he cannot simply face them all in one go, he needs to think and where better to do that than in the beach area. Nigel walked and walked along the shores and it's relaxing, he is slowly getting some insights here as his feet is touching the sand. But he never knew that he his moving too far now and because his focus is on his problems, he didn't know that he is in a part of the beach he had never been to before!
Nigel is lost now in the beach, okay normally he would just trace back his steps which marks on the sand, but he didn't pass on sand all the way though, he passed through rocky areas and even grassy ones! Okay, no way he can trace it now, worst too is that he swerved from different paths and he had no idea where he really went to. Escape players, Nigel here is going to find his way still for it will get dark soon and navigating then will be extra hard. Want to help-out here and see if you can get Nigel back home and safely?
Beach Escape is a brand new point and click outdoor escape game released by 8b Games and Games 2 Mad.
Other games by -
Walkthrough video for Beach Escape (Games 2 Mad)