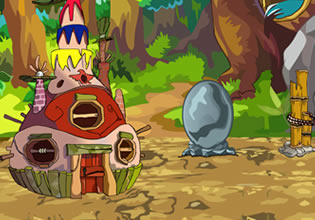 Barbarian Escape
Reggie and a few members of his family lives in this simple house in the wilderness, they seem to be thriving there now and that's so even when there are a lot of challenges in this place, one of such are the savages living in the forest and they sometimes terrorize them! Thankfully they just taunt and they do nothing harmful, still Reggie fears for their safety there. That day as Reggie was about to check the big cage in his house though, he found one of the savages and he is trapped in there!
Reggie was definitely confused, why was this guy in the cage and how did he even get inside? Maybe he sneaked in and got himself trapped? Likely, but this is giving Reggie some concern though for the other savages might come and really deal them with harm, but this might be the chance Reggie can win friendship with them however, so he'll free this guy now! Escape players, Reggie needs to find the key to his cage then so he can free this man, want to help him then so that he can return home to his tribe?
Barbarian Escape is the newest point-and-click rescue escape game from Games 2 Jolly.
Other games by -
Walkthrough video for Barbarian Escape