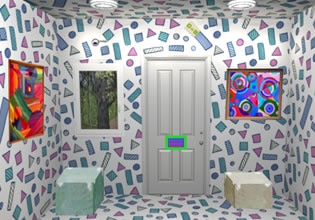 Bad Memory Escape – Shapes House
Natasha wakes-up and found herself in this not-so wide room which has weird shapes on the walls and very little furniture! She really thought she was still sleeping in her room, for that's the last thing she remembered last-night and this seems like a dream. But where she was she really has no clue, she doesn't even know if somebody brought her there or she did this herself while sleeping.
Escape players, Natasha needs to escape from these weird rooms then wherever this place is, for every nerve in her body is telling her to leave now! Will you help her escape then by finding things there which can open some doors? Carefully then, for these doors might lead you someplace you don't want to go.
Bad Memory Escape – Shapes House is a new rooms escape game created by Ainars for Escape Fan. Explore each location of the house here, search for a solution to the mini-puzzles and advance to obtain a car key.
Other games by -
Walkthrough video for Bad Memory Escape – Shapes House