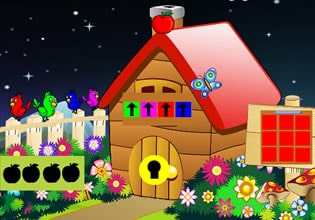 Baby Porcupine Escape
That day, Carly found her dog house locked and when she peeped inside it, she saw there was a trapped porcupine inside that small structure! No wonder her dog kept whining about something earlier, and how did that animal even lock it though? Maybe somebody placed it there to mess with her? Well that's impossible, for she lives alone and the next neighbor is pretty far away and they wouldn't just come-by and pull a prank on her. So for her it's that porcupine that did all this and she needs to get that animal out.
Carly needs to be very careful though as she does, for she knows how prickly those animals are and quite defensive, she knew that from past experiences and she doesn't want that to happen again. But guess her destiny is to face such an animal one more time though and there is a chance she'll get pricked again. Escape players, want to help Carly here so she can help the porcupine, not get pricked, and also so her dog can return to that dog house as well? Find things around the area then that can help.
Baby Porcupine Escape is a brand new point and click animal rescue escape game released by Games 2 Jolly.
Other games by -
Walkthrough video for Baby Porcupine Escape