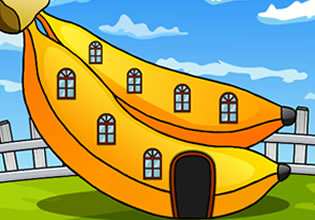 Baby Monkey Rescue From Banana House
Lisa and her friends are now trying to find her baby monkey pet for it disappeared! This little guy would never do that, that's why everybody is trying to find him right-now. Eventually, Lisa actually found him! But he was actually trapped in this cage near a house which nobody was home at the moment.
Lisa was saddened to see this, a little bit furious too, but she cannot let anger get to her though, she will try to open this thing but it somewhat needs something so that it can open though, maybe a lever or something. Escape players, Lisa here needs something so that she can open the cage where her pet monkey is. Would you like to help her for the sake of her little young pet?
Baby Monkey Rescue From Banana House is the newest point-and-click animal rescue escape game from Games 2 Jolly.
Other games by -
Walkthrough video for Baby Monkey Rescue From Banana House