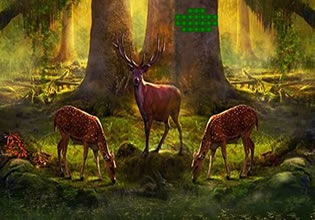 Astonishing Deer Forest Escape
The deer forest is the last untouched wilderness here in this vast land, that's why people are working to protect it. As one of the workers there in the place, Mikey does his best to check the health of the place and then report his findings to the department that's in-charge of the place. But that day as he was trying to get himself out of the wilderness for he has a new report, he got lost and now he needs help!
Mikey radioed for help then, but it seems that his talkie cannot make contact to base. That's weird, for normally they got this whole place covered, this means Mikey needs to traverse more of the place first so he can gain contact, or he can just find his way back himself. Escape players, will you help Mikey here so he can get himself back to base without further problems?
Astonishing Deer Forest Escape is a new point-and-click wilderness escape game developed by Games 2 Rule.
Other games by -
Walkthrough video for Astonishing Deer Forest Escape