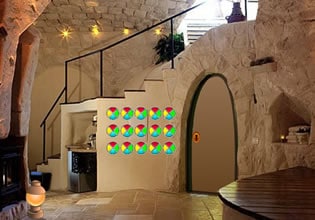 Archaeological Statue Escape
This new facility here which had been carved out from an old mine under a stony mountain, is now being turned into a storage facility for very precious artifacts! As one of the new curators and over-lookers of the place which was being repopulated and retrofitted, Elmer is keeping guard for the day for all the personnel of the area had left to get all of the artifacts from the storage rooms of the overcrowded museums back in the city. As Elmer was sitting there waiting for the other men to arrive with their cargo, he was called through his phone to check if this valuable statue which was in a sealed room inside a sealed box was still there, that's because there are missing documents at the moment at the museum and they are trying to check everything.
Elmer gave the request an okay, but he didn't think he'll be having a hard time with that. Elmer thought the doors can easily be access there for at the moment everything was still being brought to their proper places. But he found everything secured and most especially the room he was aiming for! Escape players, looks like Elmer here is going to have quite a difficulty with this task, but will you help him so he can get this done and see this said treasure of the ancient world safe and present? Maybe find a key there or anything for the doors.
Archaeological Statue Escape is a brand new point-and-click escape game released by Games 2 Rule.
Other games by -
Walkthrough video for Archaeological Statue Escape