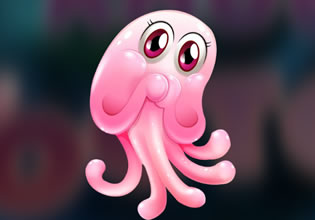 Amusing Octopus Escape
Terrence is now doing a rescue and he is doing it as delicately as he can. The village here is located near the coast and from time to time, strange creatures would come from the sea and most of the time people inspects it for new knowledge and curiosity. But there was this one fascinating creature though which was absolutely different but is not toiled. This creature is an octopus and this one was very amusing, that is what Terrence is trying to rescue for the creature is inside one of the houses there at the moment and it's locked!
This octopus really entertains people, the villagers have never seen something like that before, and it was interesting enough that they don't harm it, that's why Terrence is trying to free it from being trapped. Escape players, Terrence needs a little help here for he cannot free the octopus quite quickly. Will your skills and logic be able to help here then?
Amusing Octopus Escape is a brand new point-and-click animal rescue escape game from Games 4 King.
Other games by -
Walkthrough video for Amusing Octopus Escape